GUESTS COMMENT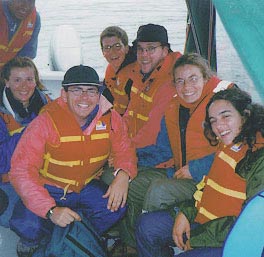 "Thank you again for a great 3 days.
Definitely a highlight of our trip to Newfoundland."
Gilles Gagnon and Family, Ontario.
Thanks for so many terrific adventures and memories: great food, endless mackerel on the hooks, the best scallops in the world, hikes to the abandoned fishing villages, fat sweet abundant blueberries, stories around the wood stove, hot rum drinks after we got soaked in the rain, caribou visits, friendship, new ideas, relaxation.....
Dr. Francesca J. Cuthbert
University of Minnesota

We all had an incredible time in Newfoundland, and particularly in Harbour Mille and at Coastal Safari! I look forward to returning in the near future. You have a great thing going . Best of luck, and I hope to see you again soon.
Dr. David Bonter
Burlington, Vermont.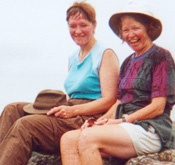 "Still floating on our renewed energy. The weekend of big spaces and perspectives makes normal life seem quite absurd."
Jean Guthrie, Nfld.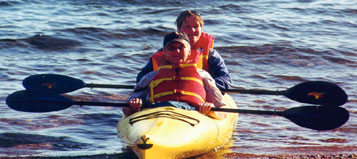 Thanks for a super stay!!! We loved every minute of it!!! You have such a beautiful place. The pictures are coming back - when I look at them, I feel like I was another animal in the wilderness, totally accepted by the caribou (unless I whirr my camera) and the eagles.
Christine Wennersten, Boston.

"Just wanted to thank you for a great visit -- one of the high-lights of our vacation. How great to see all those dolphins and the young caribou on the beach. It makes me want to come back already."
Carolyn Tibbett, Sydney, Australia.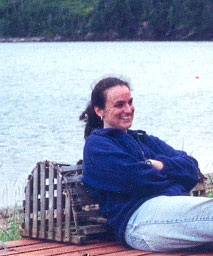 Checking out your site made me want to return all over again. It's so easy to get caught up in the everyday-ness of things; it's nice to be reminded of the beautiful corner of the world that you call home. Thanks again for a gorgeous trip. I haven't laughed that hard in forever.
Megan Whitman
University of Rhode Island
Rennae and I really enjoyed the 3 days we spent camping.
The setting was great and you are a good guide and companion.
Thank you and best of luck,
Jim Finney
Atlanta.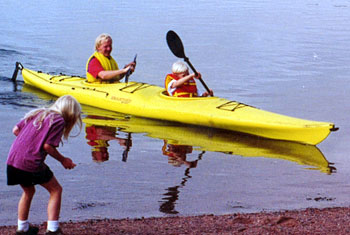 Thanks for a terrific visit to Coastal Safari. Now that we are back
in humid and congested Maryland, it's great to remember the caribou
softly tromping over the moss and the fantastic, still eco chamber of
mountains, inlets, and stars.
Chris Mona, Maryland.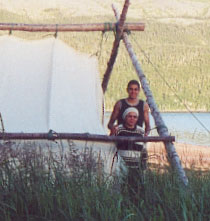 A great time!
Yasser Shawan El-Tehan
(Shown here with his Grandmother from Cairo, Egypt at the Coastal Safari camp)
A fantastic trip, especially the dolphins and the caribou. I'm definitely coming back!
Oliver Duechting
Heildelberg, Germany.