Newfoundland
Canada Wilderness Safari
Tours
Newfoundland Information

EMail
CoastalSafari@
CoastalSafari.com

Telephone
1-877-888-3020 (Toll free) or
709-579-3977

Mailing Address

Coastal Safari.com
50 Monkstown Rd. St. John's, Nfld. Canada. A1C 3T3




COASTAL SAFARI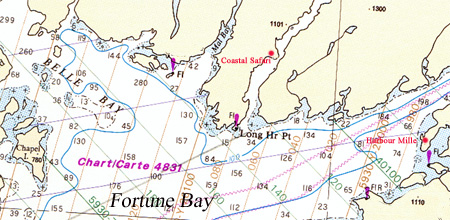 For busy people who would like to explore the Newfoundland coastal wilderness, but don't have the time to organize a safe voyage of discovery for themselves, we offer the 8-day all-inclusive Coastal Safari . We feature small groups in order to fulfill our commitment to safety and quality. Let us take care of details so that you can fully enjoy the natural and cultural uniqueness of Newfoundland.

Each tour begins and ends in St. John's and includes all transportation, accommodations, meals, camp equipment and all kayaking gear (boats, sprayskirts, paddles). All you bring is your personal gear and we take care of the rest!

DAY 1 - Saturday
We pick you up at St. John's airport and take you to your accommodation in historic downtown St. John's, the oldest city in North America. You'll be staying in the heritage district within walking distance of St. John's Harbour, downtown entertainment as well as Signal Hill National Park and it's dramatic trails overlooking the Atlantic Ocean.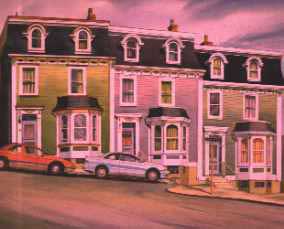 "Kimberly Row". c. Leona Ottenheimer

Depending upon arrival and departure times, we might drive to Cape Spear , the most easterly point of land in North America. After an interpretative tour of the historic Cape Spear lighthouse we walk around the old gun fortifications which guarded St. John's harbour from U. boats during the Second World War. In different seasons, we can expect to see arctic pack ice and/or icebergs brought down from Greenland by the Labrador current, as well as a wide variety of seabirds and whales .

Following the evening meal, we 'll review the itinerary and make any changes depending on current information on iceberg and whale sightings.

DAY 2 - Sunday
Today we visit the Southern Shore of the Avalon Peninsula for a boat tour of the Witless Bay Provincial Seabird Sanctuary which is composed of four islands—Gull, Green, Great, and Pee Pee—that teem with bird life during the seabird breeding season as well as being a hotspot for birding and icebergs.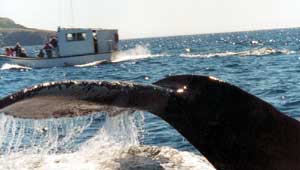 This seabird colony features 200,000 nesting pairs of Atlantic puffins, 750,000 pairs of Leach's storm petrel, 75,000 pairs of Common murres as well as Northern fulmars, Herring and Great Black-backed gulls, Black-legged kittiwakes, Razorbills, Thick-billed murres, Black guillemots and Gannets.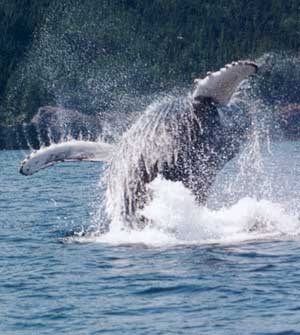 Lunch is in Bay Bulls.


After lunch we head off to Salmonier Nature Park en route to our overnight accommodation. This 1,200 hectare park borders the Avalon Wilderness Area and is located in a typical boreal forest biome with glacial ridges. Along the three kilometer nature trail with elevated boardwalks over bogs, we'll see indigenous animals (which were found orphaned or injured) housed in large enclosures containing ecosystems that resemble their natural habitats. Most of the typical boreal forest birds including a few arctic visitors such as the Snowy Owl.


We then drive to our overnight accommodation.


DAY 3 - Monday
Our wilderness voyage starts in the outport of Harbour Mille (population 200) which is literally the last community at the end of the road. At the harbour, your guide will tell you about the fishery which is still very active in this area. Harbour Mille is an active fishing community and was fortunate to escape the worst of the overfishing in the 1980's that led to the closure of fishing in many areas of Newfoundland.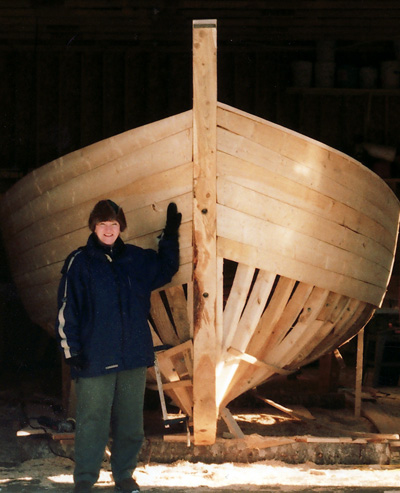 Travel to the Coastal Safari camp is onboard the 36' Anna's Dream . Built in 2005 Anna's Dream is based on the traditional Newfoundland small schooner designs that evolved over the centuries to deal with local conditions.

Before the advent of roads small schooners were the principal source of transportation in rural Newfoundland. They ranged in size from the trap skiff generally in the 20 to 30' range up to the Bully Boat or Jack Boat which was normally around 40' to the larger Western Boat in the range of 50' in length and then up to full size schooners.Originally rigged for sailing these vessels were quickly fitted with engines when they became available around the beginning of the 20th century

Our journey across Fortune Bay takes us along the same route used by Captain James Cook when he was doing a survey for the British Navy in 1765. Unlike Captain Cook who ran aground on Lobster Cove rocks at the entrance to Long Harbour fjord we know where the rocks are! Amazingly the rocks Captain Cook struck on July 22 1765 are still marked incorrectly on the chart for the area. Captain Cook's log of 1765 and other interesting information about Captain Cook is available on the website of New Zealander John Robson.
En route watch out for bald eagles, whales, dolphins, porpoises, sunfish and bluefin tuna as well as, puffins, shearwaters, gannets and loons. You can't miss the shags (cormorants) on Shag Rock and it is a common sight in the summer to see caribou eating kelp along the shoreline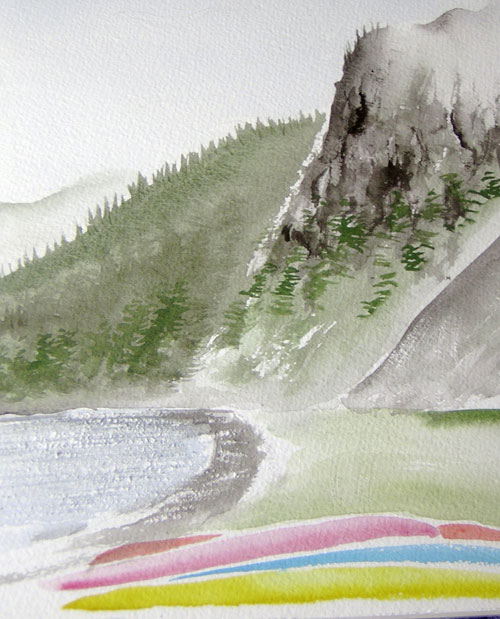 The Coastal Safari Camp is situated on the beach of a raised marine terrace two kilometers inside Long Harbour Fjord in the Maritime Barrens Ecoregion one of the predominant ecoregions of Newfoundland.
Once at the campsite, you can settle in to your comfortable 12' x 14' canvas tent which has a wooden floor, a carpet, proper beds (boxspring and mattress). We provide sleeping bags, all linens and towels and we have a gas heated shower.

On this first camp day, we usually climb Lookout Mountain behind the camp which gives you a panoramic view of the Long Harbour Fjord and Fortune Bay. As you look down at the camp, you might see the eagles circling towards us as they catch the updraft created by the sun on the cliff - if we're lucky we might even witness a flying lesson with their young!

Though far from civilization, our menu is anything but primitive, including: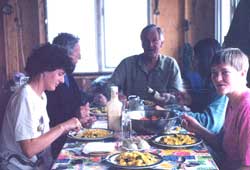 paella, seafood, sashimi, sushi, basmati rice, salads, fresh fruit and vegetables and a glass of wine. Dessert is cheesecake topped with local berries with coffee and tea.



In the evening you can watch the incredible display of stars from the deck.

DAY 4 - Tuesday
Wake up to the Newfoundland outdoors! The scream of the eagle greeting the sun, or the warning call of the loons fishing in front of the camp might be some of the sounds that you'll hear. Breakfast is served between 7 - 9 a.m. to ensure that we can get a good start to the day. Our camp breakfast specialty is pancakes with fruit and maple syrup, as well as sausages, toast, and local blueberry and partridgeberry jams.

Today we'll try out our sea kayaking abilities. Our camp is situated in a long sheltered inlet and it is an ideal place to try sea kayaking for the first time. We ensure that everyone has basic instruction for handling our very stable sea kayaks (Wilderness System touring doubles) . We also outline safety procedures, however, we support all kayaking with our high speed boat (and paddlers are always within view). If you get tired you can put your kayak ashore and we'll take you and the kayak back to camp.

Our destination for today is an eagle's nest which is perched close to the waterline.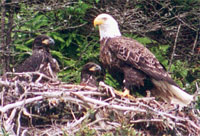 These eagles are so accustomed to fishermen and visitors that we are almost guaranteed to see the young eaglets at any time. A picnic close by at Lobster Cove allows for an opportunity to scout options for the more adventurous paddlers. There are miles of coastline to explore.

After a hike around the dramatic cliffs of the nearby headlands we paddle back to main camp. At camp you can stroll along the beach or read a book in front of your tent. In the morning and evening it is not unusual to see caribou walking along the beach near camp.

DAY 5 - Wednesday
Today we'll paddle to Anderson's Cove for our hike of the day. On any paddle you might sight a sea otter or seal whose curiosity brings them closer to us. Sometimes an unsuspecting loon pops up by the side of a kayak after an especially long dive! We have cleared the traditional trail linking the two abandoned outport communities of Anderson's Cove and Stone's Cove. We'll see the lobster pots and nets of the local fishermen who still use the area for their seasonal fishing activities.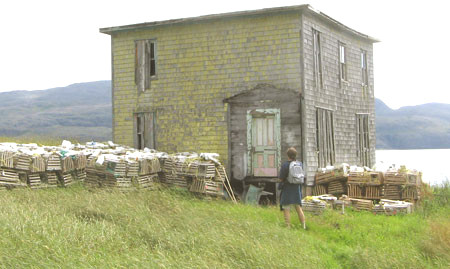 These small Newfoundland outport communities were the source of the best small boatmen in the world according to Sir Winston Churchill. The majority of the fisherman and captains of the fishing schooners on the famous Grand Banks came from Fortune Bay. We'll explore the small community graveyards that are a silent testament to a way of life that formed these 'people of the sea'.

After a picnic lunch, we'll make our way back to the kayaks and paddle back to the Coastal Safari camp.

DAY 6 - Thursday
Today depending on weather, we may travel further up Long Harbour Fjord or out past the headlands along the southern boundary of the Bay du Nord Wilderness Reserve .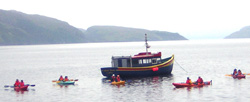 This is the last full day to head out on a kayaking trip, hike the hills or jig for fish.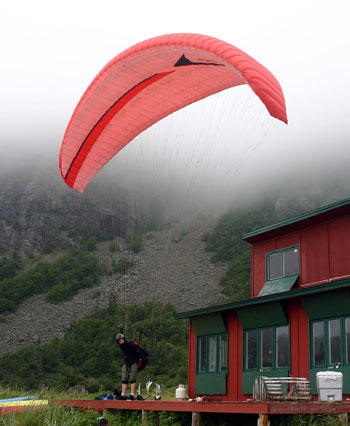 After our adventures, we'll head back to the Coastal Safari camp for our farewell supper .
DAY 7 - Friday
Today we travel back to St. John's beginning with the boat back to Harbour Mille . We have the main meal of the day at a restaurant on the highway.


Tonight you'll be staying in the St. John's heritage district and you have the evening to explore the clubs and pubs on Duckworth and Water Street and especially George Street for traditional Irish music or Celtic rock or local jazz!

DAY 8 - Saturday

Depending upon departure times, this is the day to do last minute shopping for souvenirs or simply enjoy the sights of downtown St. John's. Two locations well worth visiting are the Johnson GeoCentre and The Rooms combining the provincial archives museum and art gallery.

For an example of the quality of Newfoundland art on display see the online works of Christopher Pratt.

There are a number of music events throughout the summer including The Sound Symposium and the Annual Newfoundland and Labrador Folk Festival.

We arrange transportation to St. John's Airport for departure.



Other information ....

Tour activities can be modified to the interests and capabilities of the group. A moderate fitness level and adventurous spirit maximizes your enjoyment of this wilderness adventure. No previous kayaking experience is required.

On safari, communication is the most important aspect of safety; therefore, we are outfitted with radios and a satellite phone to ensure that we can deal quickly with any emergency. Also, our leaders are licensed under the Province of Newfoundland and Labrador Regulations and have First Aid training.


Booking Details: For all details about making a booking please see