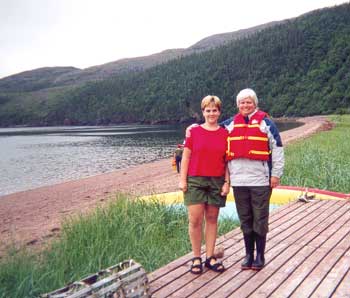 FOOD

Our camp menu features a Mediterranean-style diet accented with Japanese and Chinese influences and alternated with traditional wholesome North American 'home cooked' meals. We try to accommodate all tastes and we can accommodate dietary restrictions with advance notice. We choose our ingredients with care: organic whole wheat flour, cold pressed extra virgin olive oil (or corn oil), maple syrup, basmati rice, vegetables and fruit, a variety of fruit juices, herbal teas, wholesome trail snacks, cheeses, and more!
We serve complimentary wine with supper at the camp; but otherwise alcohol is your responsibility. Only beer is available at the Corner Store in Harbour Mille, so any other wine or spirits must be bought in advance.

WHAT TO BRING

SUGGESTED CHECKLIST
There is a fine balance between taking too much and too little. Please remember this is just a checklist and you do not necessarily need to bring everything that is listed below. Think of having layers of clothing, and having a dry set when you get back to camp - we are able to dry things overnight. Please adapt the list according to your own outdoor experience or preference
Fleece jacket or pullover
Waterproof shell jacket and trousers/pants - in case it rains when we are hiking and they can be used as paddling jacket/pants
Lightweight thermal gloves (early in the season)
Underwear
Shorts
Long trousers/pants
Light and expedition weight thermal bottoms
Sun hat or scarf
(warm fleece hat or light balaclava - more for May/June guests)
T-shirts
Sunglasses with UV protection
Thick, warm (wool) hiking socks
Toiletries
Lip salve
Day pack - to carry your lunch and other daytime items
Footwear - early in the season a pair of rubber boots are great ($12 Cdn) although near the end of the season, sport sandals will do as your feet will get wet in a marine and coastal barrens environment;
Footwear for around camp, e.g., running shoes and/or sandals; footwear for hiking;
The following items will be provisioned at the camp, however, as there are so many brands and potential allergies, we would recommend that you bring your tried and true product of choice for these items:
• sun screen/UV protection
• pain reliever - especially if you are on medication as not everyone can take aspirin, etc.
• insect repellant. While we use very little (due to the marine breeze) - a small amount would be useful.
Remember, we provide all sleeping bags, sheets, pillows, beds and tents; all kayaking gear and fishing equipment - so you do not need to bring your own!
HOW TO GET HERE

The Island of Newfoundland is the most easterly land mass in North America. Flights to St. John's are direct from Montreal and Toronto, Canada and Heathrow, London. Flights from New York, Boston and Amsterdam are via Halifax, Nova Scotia, Canada. All travel costs to St. John's are at your expense and are completely your responsibility. A passport is required for entry into Canada.